Understanding Buy to Let (BTL) Mortgage
Real estate Buy-to-let is a purchase of one property or more specifically to let it to another tenant. A buy to let loan is a type of debt that is expressly designed for such deals.
A buy to let mortgage are loans for purchasing or refinancing residential or commercial real estate which is let out to tenants rather than occupied or lived in by the borrower.
Buy-to-let loans are typically designed for property investors and landlords and are classed as business transactions. Because it's classified as a business, the rates and fees are higher than a private transaction.
The buy to let loans are typically going up to 70%-75% with the traditional lenders and up to 85% with some of the alternative lenders.
Most of the buy to let (BTL) mortgage lending is not regulated by the Financial Conduct Authority (FCA)

We at Property finance partners work in close collaboration with some funds that can structure a higher loan to value in suitable deal.
WHAT IS A BUY-TO-LET MORTGAGE?
Purchasing a mortgage for rent tends to be a safe way to make money to save on future investments. While this can often be the case, you should still be conscious of the immense risks inherent. You need to purchase a mortgage when buying a property for sale.
Buy-to-let mortgages are mortgages directly sold to people who use/buy property as an investment instead of a place of residence.
As an investor, they could borrow money to purchase real estate in a private leasing market to rent it out to tenants.
The UK has been offering mortgage credit to buy properties since 1996. Lenders use a different calculation to determine how much they can lend from a property owned by the owner.
They prefer to look at the estimated monthly rental income to assess the highest available loan rate.
Depending on the lender, borrowers will also be permitted to use their earned income in the estimate of the overall amount that they can borrow.
The most popular form of mortgage for property purchases and rents is the choice of interest rates only. The rate of interest of a mortgage could be fixed or variable.
A fixed exchange rate implies that transactions will not rise or fall, while a floating exchange rate means that transactions will fluctuate based on the basic exchange rate of the Bank of England.
On average, the rate of interest and handling costs on the mortgages are marginally higher than the owner-use mortgages.
The explanation for this is that banks and other banking institutions believe that mortgages are more volatile than residential mortgages.
WHO ARE BUY-TO-LET MORTGAGES FOR?
Buy-to-let mortgages are regarded highly for both experienced buyers and potential landlords willing to take their first move in the residential property industry.
However, not everyone has the right to pay the bill: mortgage rentals are more costly than conventional mortgages and need 25 % to 40% of deposits.
Buy-to-let (BTL) mortgages are provided for landlords who want to purchase a property for rent. The rules for buying and renting mortgages are similar to those for normal mortgages, though there are significant exceptions.
WHAT IS SO UNIQUE ABOUT BUYING A BTL MORTGAGE?
You have to buy a mortgage if you intend to rent a home. You can only get a regular residential mortgage if you plan to move to the house on your own.
There are a few main differences between home purchases and ordinary mortgages that can make it harder to rent properties.
Mortgage providers consider the purchase of a mortgage home mortgage as a higher risk than a private mortgage. This is because landlords often encounter problems in collecting rent, and your property is unlikely to be continuously occupied.
Due to the greater risk involved, you would need to pay a greater fee on a purchase-to-lease mortgage.

This is typically at least 25% of the gross value of the house, but this can differ depending on the loan and the form of a mortgage.

A minimum deposit of 20% on a bought mortgage may often be charged, but a deposit of as much as 40% is expected in some of the best mortgage rates available.

Additional costs are even higher when buying-to-let hypothecs. Arrangement payments can be up to 3.5 percent of the value of the land.
A lot of "buy lease" mortgages have interest only, as opposed to residential mortgages, which are usually capital and interest loans.

This means that the landlord only needs to pay interest monthly, not the loan itself. Typically, this will result in lower monthly payments for the purchase of a lease mortgage.

However, the mortgage must be repaid in full at the end of the period. Most landlords will pay for this cost by selling the property, although if the house price drops since the purchase, it will be difficult for you to repay the mortgage.

You should ensure that you have enough savings to cope with these situations.
HOW DO BUY-TO-LET MORTGAGES WORK?
Many mortgages to purchase a house are interest only. This means that each month you only have to pay interest on a debt that is normally deducted from your earned rent without any capital charge.
The initial loan will be completely reimbursed by the conclusion of the mortgage term.
Also, if you are not prepared to pay off the outstanding debt before the mortgage expires, you can approach to refinance the house. Certain debt repayments, such as ordinary home mortgages.
You're paying down some capital loans every month, plus interest.
BENEFIT OF LET-TO-BUY MORTGAGES
• You will make an income: By renting a property, your renters can cover your lease for you, and you may still be left with some additional income per month. As for all home rentals, the advantages for a buy-to-lease owner can include a steady income from rental proceeds, as well as an accumulation of wealth as house prices rise with time. House price inflation in the United Kingdom has made buy-to-leave a common way of investing.
• High demand for real estate: Rent is a common way of life, a requirement for several people who couldn't afford to purchase a home, and also the real estate market is presently so huge. This implies that it should be pretty easy to rent out the house.
•Property is a generally secured long-term investment: While real estate prices may fluctuate, in the long run, the price of the property should rise and earn your income whenever you sell a house.
RISKS
The major threat include investors borrowing money to invest in real estate investment, hoping that the real estate can be sold at a better price in the future, or hoping that the investment income can match or exceed the loan cost.
If the buyer fails to meet the interest payment conditions, the bank will try to obtain the land ownership and sell the house with the loaned money. If prices fall, the use of leverage will put the subject in a massive debt condition
WHAT ARE THE MAIN CHARACTERISTICS OF BTL MORTAGE
A mortgage for buying a property or renting a house is somewhat similar to a typical mortgage, but there are some major key differences:
Charges are typically much larger.
Buy-to-let mortgage interest rates are generally higher.
Maintain a minimum deposit of 25% of the value of a purchase to the mortgage (although the value of the property will range from 20 % to 40%).
The majority of BTL mortgages are solely interested. Every month, you pay the interest but not the capital sum. You repay the initial loan in full after the mortgage term. Buy-to-let mortgages are often eligible on a refund basis
The Financial Conduct Authority (FCA) does not control most BTL mortgage lending. For instance, if you choose to rent a property to near close relatives (such as fiancée, infants, colleagues, grandparents, parents, or loved ones), there are exceptions. They are also referred to as buyers buying mortgages which are measured in the same manner as retail mortgages under the same stringent rules of affordability.
Consumer advice, contract, lending, and management of BTL credits are administered by the Financial Conduct Authority (FCA) and are covered by the laws of residential credits.
A Chart Showing the Proportion of Home Bought by Landlords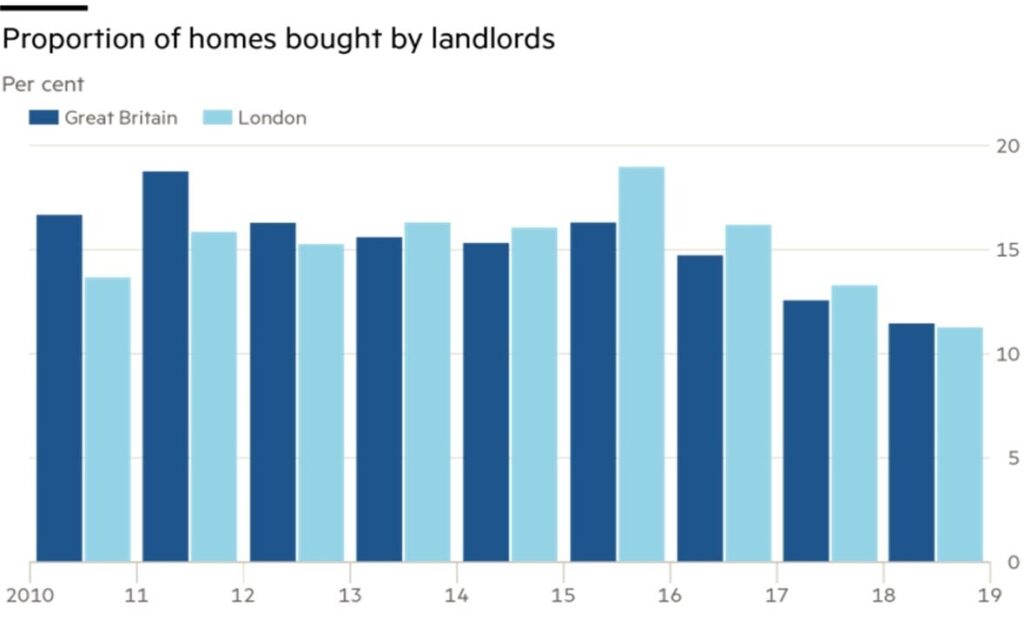 What does the chart imply? It indicates the diminishing share annual revenue ratio of day-to-day landlords in Great Britain and London as calculated by Hamptons International.
Since 2010, the organization has been gathering data on landlord transactions, including cash buyers and mortgage buyers.
Homeowners have been buying fewer houses now than any point over the last 9 years. Compared to 2011, when almost one-fifth (18.7%) of the homes were acquired, they are only accounting for one-tenth of the sales in Great Britain (11.4%).
WHEN HAVING A BUY TO LET MORTGAGE, WHAT DOES ONE CONSIDER?
Monthly interest rates on a buy-to-let mortgage rely on several factors. This comprises the initial loan amount, the lease value of the property as well as your financial status.
However, whether it is a fixed-rate or floating-rate mortgage, this would all rely significantly on the form of loan you want. Both forms of mortgages have benefits and drawbacks.
Fixed interest rate: Typically, between two and five years is the fixed-rate mortgage contract. If you chose this form of mortgage, the monthly interest will remain constant for the entire term.

This way, you can safely realize how much you have to pay per month and pass it over to the tenant by ensuring that the rent if the tenant does not rise.

However, the interest rate is typically fixed slightly higher than on a floating mortgage rate, and you would not benefit from declining interest rates.

Once the fixed-rate span has expired, you will be immediately moved to the normal variable rate of the supplier.

These prices are typically the most costly, so you need to start searching for a new contract before the completion of your term of office.
Standard floating rate: Such mortgages are generally the default lending plan of the lender, and are usually mortgages that can be transferred to when your other transactions expire.

They are typically the most costly mortgage transactions available, with the highest interest rates, so if you use SVR, it is advised that you find a better option.

The interest rate may also adjust at any point if the loan adjusts. But one of the few benefits of SVR is that you'll be able to search for better offers without paying any cancellation fees.
Tracker: This mortgage does have a flexible interest rate, which implies that your monthly interest charge may rise or fall. Such mortgages operate by fixing interest rates at a degree higher than the benchmark interest rate of the Bank of England.

This implies that peradventure the Bank of England increases their interest rates; you will be struck by higher monthly payments. Although, on the other hand, if the Bank of England's benchmark interest rate declines, you will take advantage of lower bills.
Flexible discount: the fixed interest rate on these mortgages is lower than the SVR of the lender. For instance, if the SVR is fixed at 5% and also the discount rate is fixed at -1%, then you would be paying at a 4% interest rate.

However, the rate of return would be aligned with the SVR, leaving it prone to the very same increase.

Also, the discount rate will only last for a specific period, usually about 2 years. You will be moved to SVR after this transaction ends. It is naïve to believe that perhaps the interest you spend per month is the only cost that you would face when you become a landlord.

There are also extra expenses involved; that might drastically affect your investment benefit. When considering a mortgage lease, you ought to include it in your budget.
Rental Agency Payment: when using a rental agent or a real estate agent to handle your property, you would have to pay the rental agency fee.

Their services would adjust and may include background checks on tenants, signing contracts, and retrieving overdue rents.

They can also pay for the property's health and safety checks, which you need to do to guarantee the safety of the household and the quality of living.

The daily management expenses of the property are usually 10% to 17% of the monthly rental earnings. If you're using a one-time rental service, you would typically be charged one month's rent.
• Owner's Insurance: often identified as a "buy-to-rent" insurance, offers insurance for property, its content, and landlord liability. Many mortgage insurers provide property insurance to protect the home in the case of damage or fire outbreak.

Content insurance isn't compulsory but will protect all furnishings currently in your home, including carpets and curtains.

You don't have to make sure what's up to your tenant- it's their responsibility.

If any tenant or guest dies or is hospitalized on your premises, it is your responsibility as the landlord.

In most cases, this is not necessary, but certain places in the UK need you to accept the responsibility of the landlord, particularly if your tenant is a student.
Income Tax: Every rent you got from tenants is considered as income, then you are required to pay income tax on the rent. The percentage of tax that you pay is based on your income bracket. It might be 20%, 40%, or 45%.

At present, you can minimize the level of tax you pay by recouping your capital gains with several other expenditures. This comprises much of the leasing agent rates, council taxes, and general upkeep of the house.
• Capital gains tax: If you sell a property for profit, you have the right to pay tax on capital gains. This also applies to your "lease purchase" property, where the amount you pay is much higher than any other property. Depending on the tax category, 18% or 28% of the CGT fee will be paid.

After purchasing an asset and earning more than £11,700, you must pay CGT. However, if you share a property with a colleague, you can combine your allowance to increase the maximum limit to £23,400.

You must disclose any income from the sale of real estate on your self-assessment tax return at the end of the tax year.
• Timing duty: This is a fee levied on any deal that includes the selling of real estate property. When buying a "rental property" over £40,000, you need to pay an additional 3% on top of the regular timing duty.
• Repairs: As the property owner, you are responsible for all repairs or infrastructure costs, and not your occupant.

This requires the resolution of any issues with heating or water supplies, or any current infrastructure that is inevitably impaired.

You're going to be shocked how long it takes you to pay for these repairs, so ensure you have sufficient capital to cope with any issues.
• Lost / late payment: Peradventure you own a rented property for 20 years, it is impossible to be completely inhibited.

During the time where you don't have tenants, or when your tenants are late to pay rent, you will be burdened with paying your recurring interest fees.

Ensure you've got enough savings to deal with these times. Missing mortgage payments can result in your property being repopulated.
WHO IS ELIGIBLE FOR BTL MORTGAGE?
Utilizing a buy-to-let mortgage is not as straightforward as having a regular residential mortgage.

If you'd like to invest in real estate and become a landlord, but you don't have enough money to purchase real estate directly, then you'll need to purchase a rental mortgage.

However, to be eligible to participate, certain conditions must be met before you dive.
First of all, you must have owned a house yourself, either directly or with a current mortgage.

Your lender would then determine your financial status, just like all mortgage loans.

If you have a decent credit record and have not accrued as much debt as you did on a credit card today or in the past, you are more likely to get a great deal.

You'll probably be far more likely to meet a landlord who will grant you a mortgage if you have your paycheck. Lenders expect landlords to earn a minimum of £25,000 annually
If you're too old, you'll probably find it hard to buy a mortgage. Many lenders set the maximum age limit, typically 70 or 75 years.

This does not assume, though, that a 65-year-old will comfortably go to a mortgage provider and purchase a mortgage to buy a property.

The maximum age applies to the age at which you will be after your mortgage period.

Since most mortgages can be used for 25 years, you typically have to be about 45 years of age or younger to make sure you get a mortgage.

However, not all lenders have an upper age cap and some lenders can be as high as 90 years of age.
HOW MUCH LOAN CAN YOU GET?
The amount of money you can lend tends to depend on how much rent you can expect from your house. Many lenders would usually expect you to earn 125% of your monthly interest payment in rental income but can often be as intense as 145%.
You can guess how often rent you could charge by looking at comparable properties in your location, but your landlord may still need a surveyor to check the rental value of your property.

If your lender wants your rental yield to be 125% of your payments, you would need to bill your occupants a minimum of £ 750 per month if your monthly interest costs are £600.

This implies that the better you can ask for your rent, the higher the loan you may be approved for.
Like other mortgages, owning a rental mortgage would have a loan-to-value ratio. This is determined by the amount of your debt as a percentage of the overall value of your properties.

The rest of it is comprised up of your deposit. For instance, if your house is worth 200,000 pounds and your mortgage is worth 180,000 pounds, then your LTV ratio is 90 percent and you need to pay a deposit of 20,000 pounds.
WHAT HAPPENS AS THE MORTGAGE COMES TO AN END?
When the interest-only mortgage transaction is over, you will continue to repay the cost of the mortgage at the time of purchase. Many people get around this by selling property.

Though not quite that easy, this is the point where almost all landlords earn their money.
If house values have dropped since you bought the property, and the actual valuation of the property is lesser than when you bought it, you will incur a loss. You're going to have to use your own money to pay for the rest of it.
AN EXAMPLE Of A BUY TO LET STRUCTURED LOAN
The borrower is an experienced real estate group.
They have a portfolio of Buy to let properties residential and commercial.
The total existing loan to value that they have is 64% LTV
The annual yield on the portfolio is 6.5%
We succeed to structure a facility of 85% loan to value, that will refinance the existing debt and can be used as 100% finance for buy to let property deals.
The lender that offered this facility is a Global real estate fund.
IN SUMMARY
Buy to let has become a common phrase in the real estate sector and almost everyone in the industry uses this phrase when he means buying a property and renting it out.
However, the essential points to such deals are:
An investment in real estate to rent them out.
Usually, the buy to let mortgages and loans interest only. Therefore the borrower will pay interest only each month (or quarterly, for companies borrowing from real estate funds) and the capital will be paid at the end of the term.
The deposit for a regular buy to let property deal is typically between 20%-40% from the value of the asset or the properties that the borrower wants to purchase.
However, with finance structuring for suitable sponsors and deals, the picture is different.
Corporate, developers, landlords and property investors know that the interest rate that they are charged for such deals is higher than the regular mortgage however it is calculated in their financial calculations.
Good credit record is always important. For the mainstream lenders, it's even crucial, but the alternative lenders are analysing the whole picture and history, and it's become less critical.
The amount of finance that a borrower can borrow in a buy to let loan or mortgage depends on some criteria, but the first two main criteria are: the Value of the property that the sponsor wants to purchase and the net annual rental income from it.
Most of the lenders want to see at least 20% higher net income than repayments.
To find out how we can help you with structured buy to let loans call today on 020 3393 9277